PRESS RING PACKER ROLLERS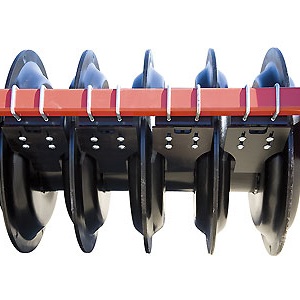 Press Ring Packer Roller contacts to soil surface to consolidate and level the seedbed whilst retaining moisture, leaving a ridged weatherproof surface.
Large diameter press discs
Large diameter press discs welded on a central tube.
Deep lip design
The discs have a deep lip design which improves soil consolidation, has a greater effect on breaking soil clods and provides a longer service life than conventional press type discs.
Full width scraper system
The full width scraper system also enables the large diameter roller to continue working in heavy conditions.
Optional hydraulic depth control kit allows to be adjusted effortlessly ensures optimum productivity in variable conditions.
News
25 January, 2020
New petrol engines cause more air pollution than dirty diesels
New Gasoline Direct Injection (GDI) petrol engines for cars emit more cancer-causing particles than modern diesel engines, a new study by independent vehicle researchers TÜV Nord revealed today.
read more
------------------------------------------------
25 January, 2020
Supplier and end user collaboration could reduce chemicals' environmental impacts reduced
A model for chemical use that involves collaboration between suppliers and end-users could benefit both parties as well as the environment, according to recent research.
read more